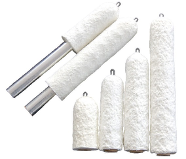 SYSCON Sensors MUL is an expendable, multi-use, non-splash, and high precision thermocouple tip. It is suited for a wide range of molten metals - Iron, Steel, Copper, Bronze, and Aluminum. The MUL tip does not need any special accessories. It fits securely on SYSCON Sensors TS-1 Handheld Digital Pyrometer.
The specially formulated, ceramic, non-splash sleeve is designed to eliminate splashing and resist slag adhesion extending the number of dips in a slag-free environment. The Aluminum foil on the
cardboard tube adds extra protection and enables more readings per MUL, reducing overall cost. The unique combination of ceramic fiber, Aluminum foil, and the high-density paper tube keeps the contact block and lead wire cooler.
Features

• ± 2˚F / ± 1˚C accuracy
• Can be used multiple times in slag-free conditions
• For most furnace, cupola and ladle applications
• Designed for Iron, Steel, Copper, Bronze and Aluminum
• Compatible with most hardware and instrument systems on the market today
• Economically priced
• Quick shipping
• Manufactured under strict ISO 9001:2000 Quality Standard
Part Numbers
• MUL-10-6 – 6" Multi-Use Lance, Type S T/C IPTS 68
• MUL-10-8 – 8" Multi-Use Lance, Type S T/C IPTS 68
• MUL-10-12 – 12" Multi-Use Lance, Type S T/C IPTS 68