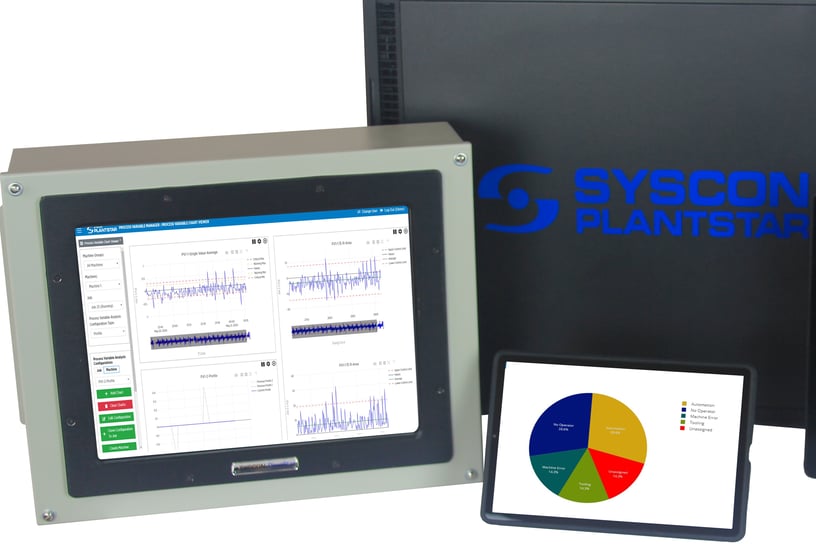 As manufacturers continue to implement innovations to maximize efficiency and streamline the factory, the concept of a human machine interface (HMI) has been gaining traction across the industry. But what is it? Star Wars geeks might be quick to say it's the beloved droid C-3PO specializing in "human-cyborg" relations. But the truth is both less fanciful and more useful.
A human machine interface (HMI) in industrial applications is simply an interface that leverages both software and components of a given Manufacturing Execution System (MES) that optimizes information exchange between a machine and human operator.
Manufacturing operators depend on HMIs to control and coordinate a myriad of complex processes. Other terms for HMIs include user interface (UI), man-machine interface (MMI) or operator interface terminal (OIT). In short, HMIs empower users to control the operation of equipment and provides feedback about activity, performance, and specific metrics.
Whether designed as stand-alone terminals for a single machine or a distributed system across complex processes, HMIs connect sensors, machines, and actuator from the manufacturing floor to I/O or PLC applications.
In addition, HMIs provide diagnostic data and managerial information such as logistical data, detailed schematics for a machine or sensor, maintenance procedures, and troubleshooting guides. An HMI can also interface with cloud apps to integrate and centralize operations control and monitoring.
HMIs typically provide information in a graphical format. As SCADA notes: "This means the schematic representation of the plant that is being controlled is available to the operator." One example would be mimic diagrams that can include digital imagery of process equipment coupled with animated symbols or schematic symbols and line graphics that depict process elements.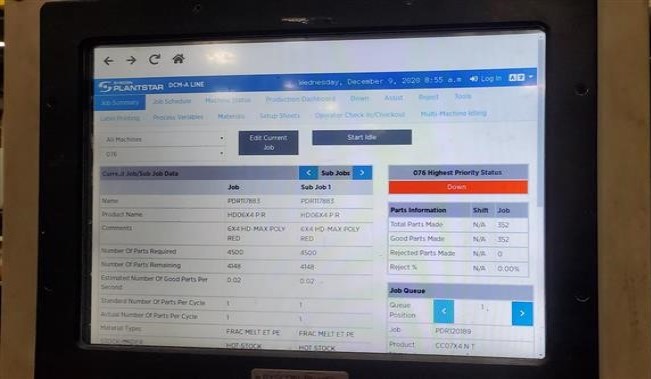 Uses
HMIs delivers vital data to operators, which in turn can be analyzed to best allocate staff and machinery or to fine tune production. Popular configurations include mountable HMIs—industrial-grade, rugged 15 touchscreens with USB ports for a scanner, keyboard, or other device as well as portable tabled HMIs—rugged, military grade tablets with built-in barcode and thumbprint scanners.
HMIs are used in industrial applications that require the processing of a large volume or deep complexity of inputs and outputs in order to maximize industrial machinery or plant-wide operations.
Examples of HMI industrial use cases include oil and gas, pharmaceutical manufacturing, food processing, plastics, robotics, transportation, mining and SCADA systems.
Large Screen displays and dashboards are commonly used throughout factories. SYSCON PlantStar HMI's allow customers to mirror real-time production data on large screen displays. This allows the plants to quickly see live OEE, production summaries, and other key performance indicators.
HMI Integration
To best understand how HMIs can be leverage for peak performance, it's important to know how they are integrated across the entire MES process:
MES Hardware
An HMI is useless if the data collected can't be effectively networked. Using quality MES hardware means less worry about network downtime or data loss hindering operations. Industrial-rated PCs in custom enclosures with proprietary digital and analog input and output capabilities protect data obtained from HMIs even in the harshest environments. Coupled with highly redundant, fault-tolerant systems, this allows machines to communicate and store data even during network outages.
Data Collection Module (DCM)
Data Collection Modules boast unmatched shop floor redundancy with the capability to gather data from any machine (including HMIs) via analog, digital, or serial signals, or through a PLC or OPC-UA interface.
The DCMs are accessed either in-house or remotely, through an Internet Browser, using an HMI. They allow machine operators to view data about the current machine processes and to input relevant information.
Application Processing Unit (APU)
After HMIs collect data and feedback, APUS do the heavy lifting required for leveraging big data. More than just a server, quality APUs are industrial-grade powerhouses that are designed to run your database and optimize the entire process. What should you look for in APUs?
Data Collection Module filter capability
Configurable machine and machine group information
Shift templates and job event details
Easily managed tool and material configurations
User and permission capabilities
Customizable charts, alerts, and reports
Safety
To optimize safety, systems such as SYSCON PlantStar's Manufacturing Execution System which utilize HMI's to help operators in your facility stay safe on the job. The system allows managers to enter helpful or essential information that becomes available in real-time to operators right at their workstation, or via an HMI. Setup Sheets, is a feature that offers flexibility which is a huge benefit over static boards. Valuable information that Supervisors feel operators need to have at their machine or work station can be entered into Setup Sheets (for the current running job or any jobs in queue):
machine use/training protocols
in-house or YouTube instructional/training videos
spec sheets
process alerts to watch for
tolerance parameters to monitor
product images
Hopefully, it's crystal clear by now that an HMI is one moving part in an MES solution that brings the entire process together a collection of metaphorical manufacturing "instruments" into a harmonious "symphony" of sweet efficient "music." To learn more about HMIs subscribe to our blog or contact us today.