Manufacturing Execution Systems (MES) are all about using production and process data monitoring to improve your manufacturing process.
Manufacturers can now deploy digital information systems that connect, monitor and manage complex manufacturing systems and data flows on the factory floor. This is the foundation of a Manufacturing Execution System (MES). The main goals of MES are to ensure:
Effective execution of manufacturing operations,

Improve productivity

Measure and ensure quality
Real-time remote managing
An MES collects and provides data for the existing manufacturing, quality control, management, accounting, and integrates with a MRP/ERP system. MES provides users and management teams with crucial information about the manufacturing process and the equipment being monitored. The buzzword for it is the Overall Equipment Efficiency (OEE). Having accurate data on all aspects of the manufacturing process allows for better, faster decision-making and improves OEE. Having this data is crucial to increase your bottom line, however ensuring the data is accurate and that you can view it remotely in real-time is game changing.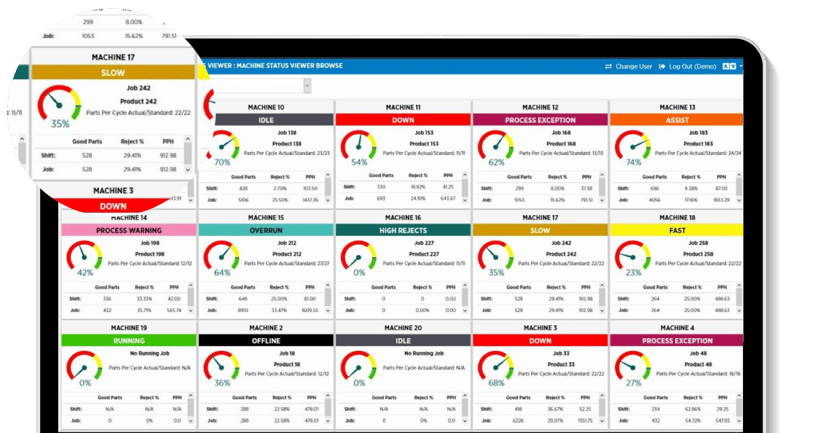 In the world of control engineering, real-time data provides you with the knowledge you need to optimize the production floor operational variables that determine where you can save on cost by developing predictive engineering algorithms to minimize production line unscheduled downtime. MES delivers precisely that.
Within the MES, edge computing resources analyze that data before it ever leaves the factory floor. The data insights give the machine operators the process and procedures needed to optimize machine performance visually using human/machine interfaces (HMI). Materials can be pre-positioned to save time (money) and increase human productivity to keep the production line at maximum efficiency. Throughput increases mean added revenue to the corporate bottom line profit.
MES solutions with bi-directional data flow with your enterprise systems provide end-to-end corporate insight across your facility. With this comprehensive visibility, you have the power of knowledge to make data-driven decisions that confidently drives an enhanced profit margin.
Some businesses don't have deep pockets when investing in new hardware and software. MES system hardware must be competitively priced and highly robust to meet the needs intelligent manufacturing operations. A typical business MES solution is shown in the diagram below. Each Data Collection modules can connect up to 16 machines, allowing manufacturers to reduce hardware costs significantly when choosing an MES provider. There is no need for hardware at every device or every station! The production can be centrally controlled at one production line instrumentation station.
Small Business MES Solution Connecting Up to 16 Machines
MES Software in the Manufacturing Data Hierarchy – ISA-95
The ISA-95 standard provides a consistent operational model and terminology that is a foundation for providing a communication flow between ERP (Enterprise Resource Planning), MES, and SCADA ( Supervisory Control and Data Acquisition Systems). It is an industry-wide model for every type of process, whether it be batch, continuous, discrete, or repetitive. ISA is the International Society of Automation, dedicated to being an unbiased source of best practices for SMBs and large businesses. The five-level model is shown below.
In the ISA-95 MES model, MES is a Level 3 capability that connects business and logistics planning to production line manufacturing and control. That means data from the corporate ERP capability along with data from the CRM marketing efforts teams up with the manufacturing control, SCADA, and the IIoT devices (embedded sensors and other operational technology (OT) components to provide the data insights and informed decision capability to scale the production operation to market demands. These MES processes optimize the production line, business, and marketing functions. A well designed system is critical to pushing product to market quickly with minimum waste and least cost to meet customer demands.
MES and Edge Computing Capabilities/Evaluation
The evaluation of your MES implementation is bound up in its capabilities at the edge of the manufacturing operation. Specifically, the MES is a complex input/output machine. It must:
Capture data from levels 1, 2, and 4 systems and analyze for intrinsic value and operational insights (predictive, preventative … ) in real-time

Analyze and react to that input data to prompt corrective actions via MES processes

Raise awareness to alarm conditions to prevent machine damage and unscheduled downtime

Recognize when predictive maintenance action is required to keep the production line running at optimum levels

Document MES actions in a repository to the extent that the need for action can be recreated and studied for future improvements of the production system
This SYSCON Plantstar post provides a use case of the importance of knowing what your MES does and how to evaluate its usefulness. The Plantstar MES solution is designed to give small businesses a capability they can afford.
The Future of MES
MES fits into a more complex future for the Smart Factory and Industry 4.0. In essence, MES is a foundational building block for gaining control over the petabytes of data generated from a new set of IoT and IIoT products. The development of edge computing resources is designed to analyze data at the edge of the factory floor. That's where the magic of real-time data insights will be most valuable.
The job of evaluating your MES, present or future, is a complex task. It starts with knowing what you want your MES to do, and developing a requirements document is critical. It's the only way you can pick a vendor who will work with you to make your MES work for you and your customer base.
There are already new efforts to supersede the ANSI/ISA-95 with new processes and standards. MES continues to be a dynamic market that contributes to the maturation of best practices yet to be discovered.