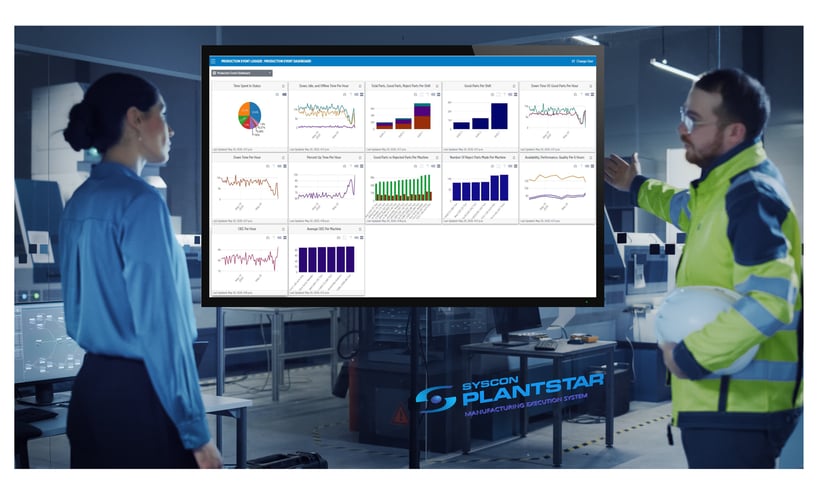 Manufacturing suppliers have been struggling because material costs have been rising, in large part because of ripple effects from the pandemic. While they cannot control supply availability, they do have an opportunity to refine their own business processes. Deploying production monitoring software enables them to maximize the return on the materials that they do secure, so they want to closely examine such solutions.
The pandemic shook up the manufacturing market. At the start of the outbreak, many suppliers cut their output, expecting that the subsequent economic disruption would reduce demand. But in many markets, like medical, life sciences, consumer electronics, automotive, plastics and rubber, fasteners, chemicals, gas, textiles, clothing, and paper, no drops occurred – and increased in some instances. Consequently, shortages quickly arose.
In addition to facing higher commodity prices, supply chain flow was disrupted. In certain cases, countries closed up their borders completely. Furthermore, workers became leery of coming into plants and warehouses. As a result, cargo headed for various destinations became stuck in certain locations. In some cases, materials sat in containers sat on docks or on trucks for days, weeks, and even months.
A Rise in Supply Costs
The changes fueled price increases in material costs in markets, like construction. The unforeseen pandemic destabilization and rising prices make it difficult for manufacturers to remain in the black. With variants of COVID-19 emerging, and case numbers again rising, the volatility may not be just a temporary phenomenon but the status quo for the near term — and perhaps longer.
So, it has become imperative for manufacturers to become creative in order to remain viable. They have to absorb additional costs, find ways to improve yields, or pass price hikes along — and risk losing — their customers. Challenging times, indeed.
Suppliers Have Little Insight into Operations Management
Manufacturers cannot control what occurs outside of their four walls, so, it has become even more important for them to tighten up what takes place inside their plants. They need to determine their Overall Equipment Effectiveness (OEE) so they can increase their yields. Fortunately, such changes are possible.
The reality is that vendors historically have had little to no real-time visibility into how well or how poorly their plant equipment was functioning. As a result, most companies manage their systems reactively. They run their systems until they fail, which happens regularly. These enterprises are not sure when their production machines require maintenance or upgrades As a result, they experience unplanned downtime. Whenever a problem arises, devices sit idle. In many cases, material is wasted and yields fall. An outage can last hours and cost millions.
Because of the current market circumstances, suppliers want to cut down on waste, respond quicker to alerts to rejected parts, and improve the overall manufacturing efficiency. Technology has been evolving to offer them such capabilities. Gradually, plant equipment has become smarter, so it automatically captures device usage and performance information.
Process monitoring solutions provide immediate analysis of all the process variables that can be measured. Measuring process variables, such as temperature, pressure, and hold times at the time of manufacturing. Minimum and maximum thresholds are set to immediately alert operators or supervisors when they reach certain thresholds. These alerts can be email, text, or voice (PA) alerts. A Manufacturing Execution System (MES) collects data about variable process parameters, like Cycle Time, Shot Size, Injection Pressure, Hold Pressure, Hold Time, Cushion, and a variety of Positions. Production data including Machine and Tool Cycles, Good and Bad Part Counts, Up Time and Down Time, Reject, Assist, and Downtime Events.
They produce reports that correlate information and quantify items, such as machine availability and operating time, part production performance, and quality. Managers run reports and compare machine availability information against planned uptimes, actual performance versus target values, and quality data that compares finished goods versus scrapped parts.
With such information, manufacturers gain real-time visibility into their production line. They can use the information to streamline the manufacturing process and further implement lean manufacturing principles that positively impact cycle time, the manufacturing process, shop floor, and supply chain. In fact, suppliers using such solutions realize a 30% increase in efficiency.
Manufacturers have struggled to deliver their goods during the COVID pandemic. Material shortages have arisen, supply chains have been disrupted, shortages occurred, and prices rose. An MES system enables them to gain more control over their operations, meet planned production time goals, increase plant performance and quality, and thrive during a time when most suppliers battle to survive.