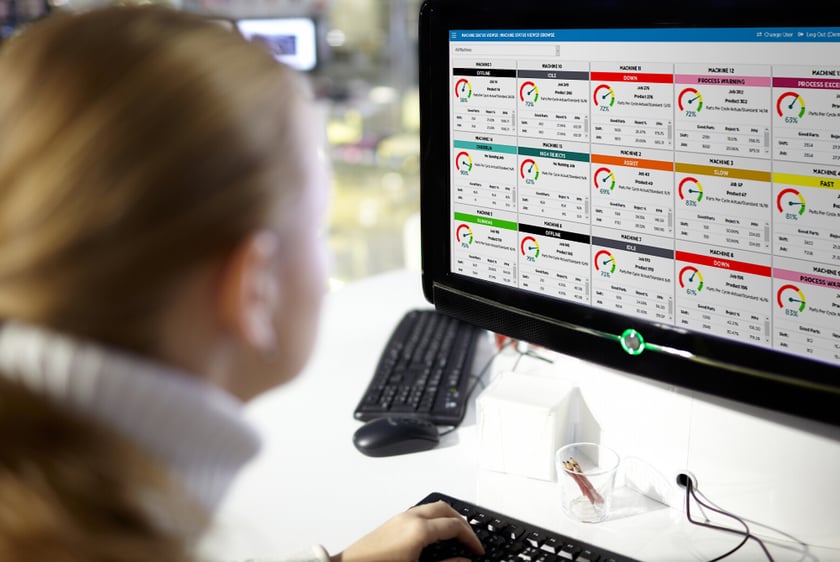 How do you make decisions for your manufacturing operations when something needs to change? Are you going on intuition? Do you look at spreadsheets from last quarter and try to make your best guess?
If you keep doing the same thing you've always done, you will continue getting the same results you've always gotten. It's time to make the change to new manufacturing technology.
Data-Driven Results
Effective manufacturing execution systems (MES) combine manufacturing execution software solutions with industry-leading hardware to give you the data you need in real time, so you can make decisions that deliver the results you want from your shop floor. Failure to collect and leverage real-time data from your shop floor means there are things happening in your factory that you don't know about and can't fix.
Want to move the needle on your bottom line? Get data.

How to Get Actionable Data
You've got to have powerful hardware. Big data quickly overwhelms standard, off-the-shelf computing systems, both in terms of sheer volume and the need for cleaning.
No other provider of manufacturing execution system solutions has hardware as powerful as the data collection modules (DCMs) from SYSCON PlantStar. In terms of data capacity and processing, we set the curve.
However, effective data collection modules (DCMs)—like those we offer—deliver the capabilities to provide the data you need to make informed decisions. When you implement our DCMs in conjunction with our MES Solutions, you get:
A browser-based hub for all the data from your shop floor, materials, and operator personnel that lets you access and analyze that data in real time from anywhere with a wireless connection.
16 digital inputs and 8 digital outputs per DCM .
Custom analog inputs. Don't let other MES providers fool you into upgrading your legacy machinery! If it's on your shop floor and you still run it, we can connect to it to deliver the data you need. We have decades of experience with legacy equipment.
Debounce. If you need fine calibration to avoid unnecessary or unwanted ticks from your data acquisition, our installers can show you how to configure debounce so your data is accurate.
More than 40 days' shop floor redundancy—an unrivaled storage capacity. If you lose network connectivity for any reason, our hardware has your data covered.
Mountable hardware. Our installers work with your shop floor personnel to find the optimal location for your DCMs.
Portable and mountable human-machine interface options that provide access to the data you need, wherever you are.
Real-time dashboards, machine status data, system logs, and more.
Why Data Matters
You've got your machines and other shop floor assets hooked up to powerful data collection hardware. Now what? Start leveraging that data to make changes!
MES solutions like PlantStar 4.0 will alert you if there are problems with a machine. You'll get updates if:
A machine is running too quickly or too slowly
There's a change-over coming that you need to be ready for
A mold or another tool is scheduled to be on two machines at the same time and you need to figure out how to resolve the conflict
Your WIP won't make deadline
You've got a machine down and need to move the WIP somewhere else
You've overrun on a work order
An operator needs assistance
A product has fallen out of spec
You need to move materials soon in order to be ready for what's coming up
And so much more!
DCMs let you compare data sets in real time so you can see which machines are running optimally and drill down into the data to find out what's wrong with the ones that aren't. This will help you identify several things:
Who are your most productive operators? Why are others lagging behind?
Why is change-over taking so long?
Are inventory levels sufficient to make product to deadline?
What are the reasons for all this scrap?
Real-time data gives you the answers you need to make changes that improve your deliverability and optimize your manufacturing processes, helping you save more and spend less. What's not to love?
To learn more about the benefits of a comprehensive MES solution and the ways DCMs can benefit your data collection process, subscribe to our blog!