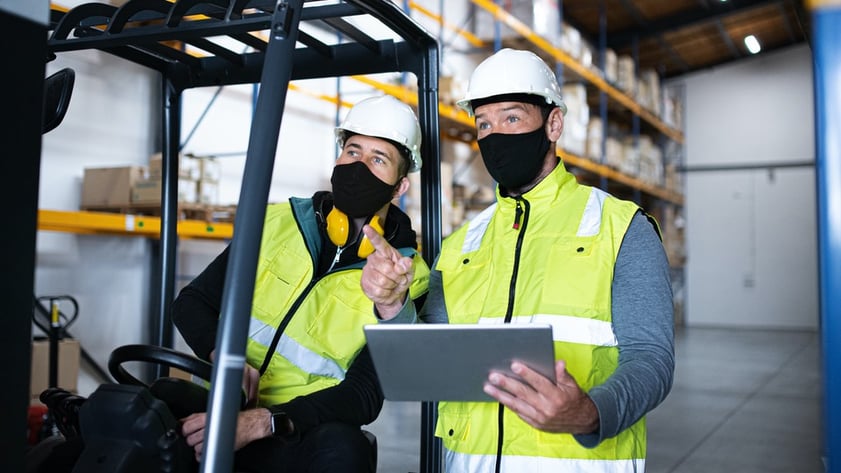 Most manufacturing companies already have enacted and are following their business continuity plans. However, these plans may not fully address the fast-moving and unpredictable variables of a crisis such as COVID-19. Let's remember that supply chain leaders are facing unusually complex and changing conditions as a result of the COVID-19 pandemic. The typical contingency plan tends to ensure operational feasibility following natural disasters, cyber incidents, and even power outages but rarely accounts for widespread quarantines, extended business closures, and travel restrictions.
The coronavirus wave of disruption enabled manufacturing organizations to sell directly to online consumers. However, many existing supply chains lack the transparency, digital capabilities, and resilience to operate effectively and efficiently under current conditions. Many attempts to navigate these conditions have proved brittle in the face of increasing customer expectations, disruptions, and new levels of trade uncertainty.
How has COVID-19 impacted the supply chain?
Global disruptions caused by COVID-19 have forced manufacturers to focus their attention on inventory levels. In this difficult time, most companies struggle to maintain a steady flow of required goods. The pandemic has changed the environment, highlighting the importance of reacting, adapting, and setting up crisis management protocols to weather uncertainty. Companies should take time now to analyze supply chains in order to protect themselves against future disruptions. When unexpected events unfold, your success depends on how quickly you can adapt to forces beyond your control and increase your visibility into, and control over, your shop floor processes.
COVID-19 has presented a unique opportunity to observe how systems and processes respond to severe stress and constant change, focusing light on the importance of supply chain resilience. The rise of digital solutions has opened up new worlds of innovation for manufacturers, especially as they relate to artificial intelligence (AI) and the Internet of Things (IoT). As we move into the future, we must use what we learned from recent events to prepare for the post-COVID-19 future. New intelligence and analysis capabilities are available today to help manufacturers improve care and efficiency while reducing costs.
How can manufacturers survive and thrive post-COVID?
When you understand and are able to control the manufacturing process end to end, you are better able to transform your entire organization and thrive post-COVID. You can't improve what you don't measure. As the pandemic continues to expand, and manufacturers face challenges on numerous fronts, we see several significant trends emerging, including increased use of digital tools and technologies. Before adopting these trends, however, manufacturers need to understand the long term impact on their business.
In addition to reevaluating the supply chain footprint, manufacturers can use advanced technologies to minimize supply chain disruptions. Manufacturing Execution System (MES) software allows real-time visibility into supply chain flow and improves productivity. As manufacturers plan to thrive post-COVID, next-generation tools that allow staff to know what's happening with production activities and process variables in real time will be critical to long-term success.
Most consumers have shifted almost entirely to shopping online. Even after social distancing mandates end, continued social distancing practices could prevent brick-and-mortar stores from seeing pre-pandemic levels of in-store traffic. The next evolutionary steps for innovative manufacturers are advanced monitoring capabilities and complex automation, which will mitigate the need for human interaction and predict supply needs, preventing the spread of disease both on the shop floor and in the brick-and-mortar stores.
The primary challenge for many organizations is understanding how their manufacturing processes operate in real time, across diverse functional teams, and within siloed back-end systems. Going forward, manufacturers should expect links in their supply chain to continue to weaken, as some vendors and suppliers will likely face operational or financial struggles of their own. Investing in digital tools can help post-COVID manufacturers understand the shop floor, look toward customer service automation, and consider moving their staff to fully remote work in order to remain competitive. Digital enablement is probably the most essential part of building resilience for manufacturers.
The COVID-19 pandemic will have long lasting implications for the manufacturing industry.
Manufacturing leaders need real-time monitoring and control of their supply chain processes as well as the ability to evaluate automation solutions to reduce the number of workers on the factory floor. The areas of focus for post-COVID success should include
Predictive maintenance using AI and the IoT
Effective process monitoring
Automation of repetitive tasks, including

Assembly (industrial robotics and mobile/collaborative robots)
Autonomous materials movement (autonomous forklifts, cranes, and high-payload drones)
Remote Monitoring Solutions
While digital transformation is a high priority for many companies, they often fail to meet expectations. Whether utilizing an ERP or another application, the data is waiting to be put to use. Solutions such as SYSCON's Manufacturing Execution Systems enable organizations to discover, assess, visualize, analyze, and monitor manufacturing process flows. Our solution is powered by artificial intelligence, machine learning technologies, and the latest features of advanced MES solutions. This allows accurate, in-depth, and real-time process discovery, analysis, and monitoring, which help shop floor leaders to accelerate initiatives to thrive in the COVID world and long after.