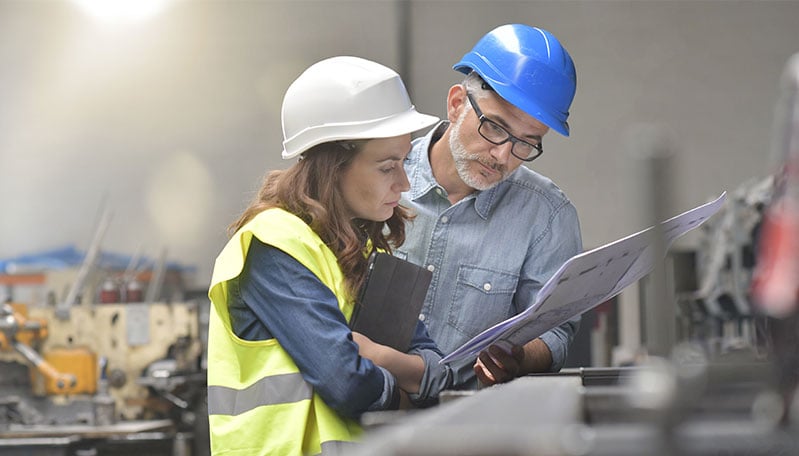 As the plastics manufacturing sector navigates the turbulent waters of 2020's COVID disruption, industry leaders are attempting to make some sense of how the industry can progress sustainably into 2021.
Identifying Challenges
Beyond the pandemic upheaval, several manufacturing challenges have converged that could potentially impair every aspect of the plastics industry: supply chain management, shop floor operations, and plastic parts and products, as well as specific threats to the production of high quality plastic injection molding and rotational molding.
To put these challenges into perspective, consider the plastics automotive sector; of the approximately 30,000 parts in a vehicle, around 50% are plastic. When COVID lockdowns started earlier this year, the American automotive industry took a huge hit. Writing for the Plastics Industry Association, economist Perc Pineda noted:
"Automotive and light truck assemblies in April dropped by 99.2%. new orders for motor vehicles and parts dropped 62.5% to $22 billion. Such a dire scenario cast uncertainty in the plastics industry where, for every dollar in the automotive industry, 4.6% goes to plastics products."
Although the plastics manufacturing industry is benefitting from the current economic recovery, increases in demand offer a double-edged sword since many plastics companies are ill equipped after the downturn to bounce back so easily. Supply-chain interruptions, environmental concerns, as well as health-safety and social-distancing policies may erase some of the fiscal gains unless immediately addressed.
1) Increase in Demand
With economic recovery expanding in the face of the pandemic, many industries are facing a "good problem": demand is increasing even as factories scramble to return to some semblance of normal. In the plastics manufacturing sector, demand surpassed same-month numbers over 2019. For U.S. manufacturers, plastic molds exports in June climbed 36% above June 2019 and imports inched up 4.0%.
"Both exports and imports of molds are back to pre-COVID-19 levels," Pineda said in another blog post. "This could be an indication that demand at plastics processors has picked up in both domestic and export markets since the lockdowns in March."
Thanks to a skyrocketing demand for disposable hygienic products, sales for single-use molded plastics have also soared. "Anything COVID-19 has done specifically for plastics has reminded us of the hygienic and disposability aspects of plastics, specifically," said Stephanie Baker, the director of market development for KW Plastics, in an interview with Waste360.
As homebound people continue to buy more packaged products via online shopping, molded plastic packaging is expected to reach more than 21,000 tons of production in 2021. This is good news, but manufacturers should also prepare for the other side of the demand coin. "The packaging industry also needs to be ready for second-order effects triggered by the COVID-19 crisis," a McKinsey report states, adding that fluctuations within the petrochemical industry could play havoc on supply and cost.
As the spread of COVID shows no signs of abating any time soon, the plastics manufacturing industry will continue to witness high demand for plastic parts in personal protective equipment and other medical supplies. Healthcare facilities are demanding more single-use plastic surgical gloves, syringes, insulin pens, IV tubes, and, catheters. The plastics manufacturing industry continue to research and learn about better manufacturing execution systems.
"It should be underscored that plastics are part of the solution to the COVID-19 health crisis," Pineda writes. "Plastics are also a key component in the production, packaging and distribution of consumer essentials. Both sectors broadly require different types of plastic materials and resins."
2) Pollution
Increased demand and a post-COVID recovery for the industry also means an increase in waste – a problem manufacturers have addressed over the last decade to varying degrees of success.
A recent study highlighted in National Geographic finds that, of the 8.3 billion metric tons of plastics produced, 6.3 billion metric tons is waste. Of that, only 9% has been recycled. "The vast majority—79%—is accumulating in landfills or sloughing off in the natural environment as litter. Meaning: at some point, much of it ends up in the oceans, the final sink." By 2050, there could be 12 billion metric tons of waste in landfills and "the oceans will contain more plastic waste than fish, ton for ton." If present trends continue, by 2050, there will be 12 billion metric tons of plastic in landfills – 35,000 times as heavy as the Empire State Building.
While plastics recycling has been touted as a possible solution, programs are not being effectively launched. According to an OECD report: "Plastic recycling continues to be an economically marginal activity. Current recycling rates are thought to be 14 - 18% at the global level." The report adds that remainder is either incinerated or shuffled off to landfills. The plastics industry is promoting chemical recycling – breaking down plastic into fuel or new plastic – as a solution. Whatever industry consensus emerges, the industry must act quickly and decisively before outside agencies ramp up new regulations without industry input.
As if past pollution problems weren't enough, the onset of the COVID pandemic has increased waste output with the increasing demand for one-use products such as face-masks, gloves and other PPE equipment. In addition, the restaurant sector has boosted demand for single-use plastic plates, cups, and cutlery amid hygienic concerns.
3) Health Guidelines and Social Distancing Practices
Most manufacturers across all sectors have felt the impact of COVID-related lockdowns of factory floor and office. Many offices and shops have been forced to staff skeleton crews to comply with health and social distancing requirements. Because several job functions in the plastics industry require hands-on workers to be present, companies face the challenge of fulfilling red-hot production demands while also keeping employees safe.
"Several plastic companies have implemented a number of solutions to adapt to the economic reopening amidst the pandemic," notes a blog post by Martins Plastic. "For example, in Mexico, the Austrian Engel, which fabricates plastic injection molding machines, has strengthened their customer service with digital tools, as well as having their employees follow health guidelines."
4) Keeping Pace with Tech
With demand on the rise for more plastic products – from PPE to toys – manufacturers are facing the stark reality that consumers and B2B clients have accelerated expectations for rapid processing and delivery of purchases, thanks to ecommerce giants like Amazon, Ali Baba and Walmart. To keep up, plastic manufacturing companies will have to adapt and embrace disruptive tech such as Internet of Things, Artificial Intelligence, 3D printing and robotics to keep pace.
5) Lack of Resources and Supplies
Pre-COVID, manufacturing supply chains were already based on thin margins and an increasingly dense web of connections among suppliers, manufacturers and distributors. With the onset of the COVID pandemic, coupled with the ensuing economic downturn, plastics manufacturing companies are facing unprecedented challenges in securing and maintaining agile supply chains. Alarming news stories depicting store shelves devoid of toilet paper and other staple items represents a symptom, not a cause, of this global interruption. Plastic manufacturers have and may continue to suffer shortages until COVID levels began to drop.
The plastics packaging industry will likely suffer a further strain on resource supplies as demand rises for healthcare-related packaging – flexible blister foils, pumps, closures, and rigid plastics.
The petrochemical industry also faces an uncertain future as prices continue to ride a fiscal roller coaster. Plunging prices earlier this year forced major oil companies to delay or even cancel plans to increase production capability with new infrastructure projects which, in turn, affects raw material supplies for plastics producers.
6) Skills Gap
A recent Deloitte study projects the manufacturing industry will lose 2.4 million workers over the next eight years due to "an increase of retirees and a lack of skilled replacements." A CNBC report notes: "Until we have a better-trained, more-skilled workforce, which is not really out there, you're going to have a lot of these positions open. It's a challenge. There are job openings, and they are very tough to fill."
While the plastics manufacturing industry has recouped some job losses in the last half of this year, managers still face a widening skills gap when it comes to new hire recruitment. With demand heating up and supply chains cooling down, the creation of an actionable plan seems akin to training new engineers on a runaway train. As the industry continues to require more specific technological skills, plastics manufacturers must evolve new and effective strategies to deploy as soon as feasible. The silver lining? The pandemic has fueled a new enthusiasm and innovation in the remote training and e-learning sectors.
While virtual training can never replace onsite programs, online platforms can supplement and augment traditional training methods. A recent World Economic Forum report notes: "e-learning requires 40-60% less time to learn than in a traditional classroom setting because students can learn at their own pace, going back and re-reading, skipping, or accelerating through concepts as they choose."
A Great Future
One of the most famous lines from the 1967 classic The Graduate sees Dustin Hoffman's young character, Benjamin Braddock, in a cocktail-party conversation with and older businessman, Mr. McGuire. McGuire leans close to Braddock and offers words of wisdom: "There is a great future in plastics. Think about it. Will you think about it?" And that is exactly what plastics manufacturers must continue to do – accept the Great Disruption of 2020 as the immense tragedy and economic upheaval it has been.
Learn from the past. Innovate in the present and keep growing towards Mr. McGuire's Great Future. Keep the words of motivational speaker Roger Crawford front and center as "new normal" challenges grow: "Being challenged in life is inevitable, being defeated is optional."
For continued updates about manufacturing challenges and strategies, subscribe to our blog.