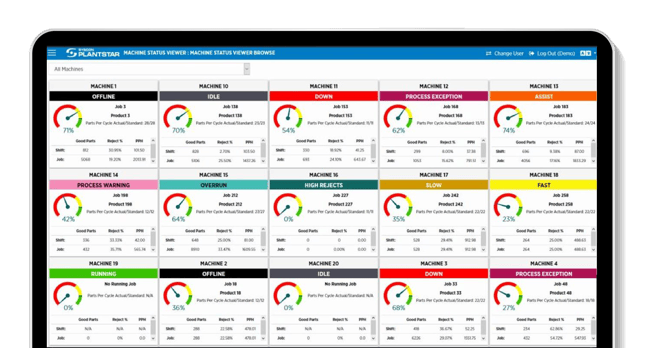 It's that time of year again, when pre-season yields to the official start of NFL, and fans are gearing up for the highs and lows of great competition that characterize great rivalries.
What does any of that have to do with manufacturing?
Innovation Drives Technology
Check out this infographic. Earlier this year, the NFL "appointed biomechanical experts" and carried out "extensive laboratory research" to find a way to alter the helmets that professional football players wear. Why?
Safety.
Football is hard on noggins. Players suffer traumatic brain injuries that leave permanent damage. Impacts can sideline a guy for a whole season, or the rest of his life.
The NFL realizes that this is a problem, so they sought a solution that prioritizes the safety of the players: they brought in experts. Who innovated. And came up with a new helmet that has significant advantages over its predecessors. The NFL is making a difference for its players by leveraging technology to improve outcomes.

PlantStar Makes a Difference for YOU
Manufacturing is hard on personnel. Machines out of spec can cause serious injury to workers, sometimes with catastrophic results. More than 300 fatal, manufacturing-related occupational injuries per year were reported by departments like OSHA to the Bureau of Labor Statistics in 2016 and 2017 (the most recent dates for which data is available).
Think about that: almost one death per day, every year. Many more manufacturing injuries go unreported.
If the safety of the people on your shop floor is a priority to you (and we do hope that it is!), bring in experts who can give you insight into the potentially dangerous conditions in your plant.
SYSCON PlantStar's manufacturing execution systems solutions are designed with safety in mind. and we've got a new MES that has significant advantages over its predecessors.
PlantStar 4.0 uses sensors to monitor the specs and tolerance parameters on your machines and presents relevant safety data to you in real-time. Such innovation gives you the chance to know about dangerous conditions before there is an incident.
Our technology improves outcomes.
So grab your favorite player's jersey, your snacks and drinks, and go all out for your team this season.
But give SYSCON PlantStar a call, too (maybe at halftime!), and let us show you how we make a difference in the safety of your manufacturing people.