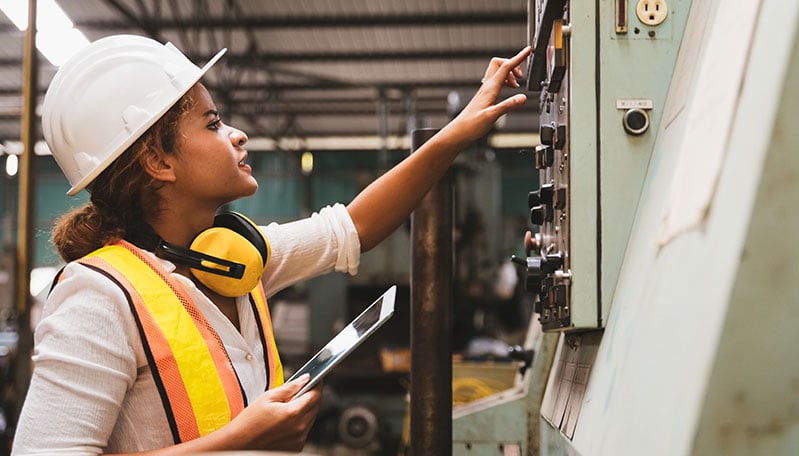 As the number of COVID-19 deaths continued rising throughout 2020, economists were faced with the challenge of understanding how the pandemic will not only affect the global economy overall, but also change the way companies approach economic efficiency, technology efficiency and measure productivity.
"Looking at historical precedents, it's about three times as bad as the global financial crisis of 2008," said economist Nariman Behravesh in a recent World Economic Forum report.
Challenges such as a reduced workforce and supply-chain gaps in the manufacturing industry threaten economic stability. However, the industry continues to maintain and even enhance manufacturing efficiency amid the pandemic—largely due to disruptive technology.
COVID-19 Challenges
Despite some uptick from the initial surge of unemployment in the spring of 2019, millions of workers struggle as a lack of childcare, caring for virus-stricken family members, and social-distancing limitations prevent people from returning to work.
According to the Bureau of Labor Statistics, "In July, 31.3 million people reported that they had been unable to work at some point in the last four weeks because their employer closed or lost business due to the coronavirus pandemic—that is, they did not work at all or worked fewer hours."
Consumer goods have taken a harder beating within the manufacturing industry, thanks in part to massive demand surges—especially in household essential items like paper towels and toilet paper.
"An average of 21% of household paper products were out of stock at U.S. stores as of Aug. 9," a Wall Street Journal report notes. "The situation isn't likely to abate soon because producers have no plans to build new manufacturing capacity. The central piece of the machinery needed to make paper towels takes years to assemble."
The good news: manufacturing as a whole is fueling a rally supercharged by gains in technology efficiency. According to the Institute for Supply Management's monthly PMI Index, manufacturing recorded a growth boost of 1.8% in August, continuing a 56% growth rate since April. Advances in emerging tech and lean manufacturing across the manufacturing process—the paper products sub-sector notwithstanding—are driving a new elevation in productivity that will continue to thrive under the "new normal."
The bad news: in order to take advantage of tech disruption, forward-thinking companies must recognize what consulting firm Accenture calls "tech-clash," a values misalignment:
"People's values are shifting, and digital-age technology models are increasingly out of sync with them … Now more than ever, it's critical that businesses think about outmaneuvering today's uncertainty."
1) Automation
As labor shortages grow, knowledgeable manufacturers invest in machinery that operates with fewer employees on the shop or plant floor.
"In the case of a pandemic, or similar catastrophic events, the focus should be on machines autonomously running mundane, day-to-day tasks with people intervening based on experience and complementing the machine with strategic actions," strategy analyst Alan Duncan tells Manufacturing magazine.
Duncan added, "Automation has evolved into having a greater focus on flexibility, scalability and process adaptability, becoming a tool to optimize efficiency through manufacturers' ability to adapt to demands."
Automation can do more than maintain and optimize a robust manufacturing process amid COVID-19 related labor shortages. By connecting machines to "smart" hardware and software, manufacturers can organize, analyze, and store shop floor data in real time.
2) AI and IoT
The rise of machines has opened up new worlds of innovation for manufacturers—especially as they relate to artificial intelligence (AI) and the Internet of Things (IoT). AI and IoT systems work together across the manufacturing process, boosting economic efficiency.
Industry Week predicts "greater connectivity will mean significantly accelerated deployment of Industrial IoT, including sensing, data visualization, remote collaboration tools, and AI-based insights across their operations."
The one-two punch of AI's intuitive computing power combined with IoT's pervasive network of detection and data collection functions will position manufacturers to face most any future obstacle.
3) Remote Tools
According to the BLS, just under one-third of all American employees were working remotely due to pandemic concerns in July. Experts predict manufacturers could lose up to half of all workers due to social-distancing constraints.
Clearly, companies that get ahead of the remote-work revolution will thrive. Remote monitoring solutions allow machine operators to view the status of production equipment from virtually any location on earth—from the spare-bedroom-turned-office to sandy beaches—with remote monitoring functionality from any device connected to the internet. SYSCON PlantStar has extensive experience with helping people in manufacturing to accomplish this.
4) Emerging Tech
Just as our grandparents would never have envisioned the internet, traditional manufacturers bound to old-school thinking can scarcely imagine emerging tech advances that are on the horizon or, in many cases, have already arrived.
Take generative design, for example. A CB Insights report describes the emerging technology as "a process in which artificial intelligence and machine learning algorithms quickly produce multiple iterations of a design based on predefined specifications." In short, designs on demand.
The report goes on to describe emerging technology like high-speed sintering, embedded metrology, and light-based manufacturing. The takeaway? Keep up with the next wave or face a wipeout.
5) Instant Alerts
As breakthroughs such as AI, IoT, and remote solutions enhance the manufacturing process in a COVID and post-COVID world, next-generation tools such as instant alerts equip a right-sized staff to know what's happening instantly when it comes to production activities and process variables. Instant alerts generate immediate email, text, and voice alerts concerning the status of any shop-floor machine. Users can easily customize their preferred types of alerts and receiving methods. Manufacturing Execution Systems provide certain alert capabiltiies included in their systems and much more.
6) Operator Tracking
As manufacturers face a future of scaled-down worker shifts, the need to do more with less grows exponentially across all departments. Advances in operator tracking software ensure supervisors know who is doing what at any given time and place on the factory floor, quickly identifying all operator action events using simple track-and-trace capabilities.
7) Virtual Offsite Training
As social-distancing tactics continue to transform into the new normal in the workplace, manufacturers have a unique opportunity to roll out fresh virtual methods for remote, skill-building training modules.
Using current technology, employers can connect employees with e-learning modules accessible via desktop, laptop, or smart device. As virtual and augmented reality tools merge into the mainstream of affordable tech, employers will routinely offer virtual plant walk-throughs and task simulations while connecting employees with trainers from anywhere, including specialized contractors who no longer require costly travel expenses.
Innovation is COVID-Immune
Since the dawn of the manufacturing process, innovators have always faced and embraced disruption from the Ice Age to the Information Age.
Whether the global economy will face a fresh round of international conflicts, pandemics, or climate disasters in the decade to come, forward-thinking manufacturing operators will maintain and advance economic, technology, and process efficiency and keep doing what they've always done: conquer the coming storm.
For more information about technological advancements and processes that can enhance your facility's operations, subscribe to our blog.